Thermwood Cut Center
A cut center is a machine that looks a little like a CNC router but works totally differently. Instead of generating CNC programs that tell the machine how to move, it already knows how to move. It actually knows how to make products, tens of thousands of products. Simply tell it what you want, how you want it made and it makes it
This is a revolutionary approach to manufacturing that can be run by about anyone. No special technical skills, no extensive training. It's intuitive…tells you what to do, shows you what to do and connects you to a real live person if you want. This is manufacturing for real people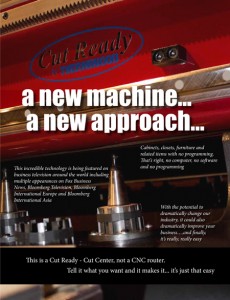 It's pretty simple…figure out what you want to make and then make it. Answer a few questions; "What do you want to do? – Make Something…" What do you want to make? – Cabinets, Closets, Furniture, Doors, Drawers, Moldings, Shapes…just select one. It all works through an intuitive touch screen. "How do you want it made?" – the details…like frame or frameless, attached or detached toe, one or two sided material…you get the idea. Now you see images of all the products you asked for, made the way you want…touch one and there's a three dimensional image. Move it, rotate it, explode it and make sure it's what you want. Adjust the size and add it to your job. You are ready to cut
Running this machine is like nothing you've seen before. It takes you by the hand and guides you, step by step. You communicate using a "clicker" you wear on a magnetic necklace…no reason to go to the screen every time you want to do something. If you don't understand, even the simplest instruction, it plays a video showing exactly what to do. It takes a different approach, a better, easier approach to traditional practices. For example, if parts need to be machined on both sides, the machine starts by doing the back operations first, on the full sheet. Then it flips the sheet over and completes the front operations. When the parts are cut out they are done…front and back. It manages your tools, tracks tool life, measures your tools, manages your waste board, turns vacuum on and off, even the pump, and generally does all the complicated things automatically, so you don't have to.
Technology
This incredible technology is being featured on business television around the world including multiple appearances on Fox Business News, Bloomberg Television, Bloomberg International Europe and Bloomberg International Asia.
What can it do ?
Cabinets, closets, furniture and related items with no programming. That's right, no computer, no software and no programming !
How can it help you ?
With the potential to dramatically change our industry, it could also dramatically improve your business… and finally, it's really, really easy.